At a time in this country when life is full of uncertainty, one thing that you can count on is that Tate Thrasher is going to be busy! The soon to be Sophomore at Columbia High School near Houston, Texas not only excels in football, basketball and baseball but he also finds time to run a fishing camp for youngsters in his community.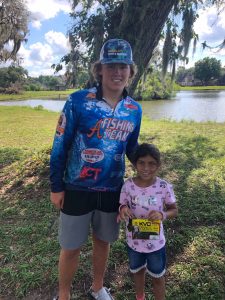 "I fish competitively in the Texas High School Bass Fishing Association and several youngsters in my community came to my house and asked me to show them how to tie on hooks and put baits on" stated Thrasher. "That started the whole idea of starting a fishing camp for young anglers and it has blossomed from there. We usually meet once a week and that eventually grew into us running a tournament for them" added the energetic leader.
The group averages around 13 campers per session and Tate is assisted by both his parents who help run the seminars. "We set up stations where I take a portion of the group and work on knot tying and my dad will then show them how to apply the bait. Each week we try to show them something new. We then usually give them 30 minutes of fishing time."
Fortunately for Tate and his young campers they live in the perfect community that includes a now defunct Golf Course that has several ponds that the anglers can utilize for their events. "I want to make sure I praise the efforts of Mr. Murray Underwood, added Tate. He owns the property all of those ponds are located on and he gave us permission to fish there. We couldn't begin to do this without his help."
The group recently held its first community tournament that drew 25 anglers in the 5 to 11-year old age group and another 23 anglers in the 11 to 18 age category. The event was highlighted by one of the younger anglers catching his first bass and three others to win the event!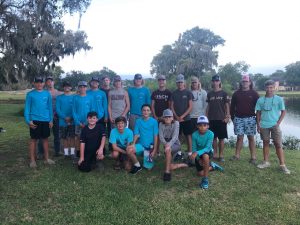 "Seeing the progress each angler is making and the smiles on their faces makes this all worth it" added Tate. I can see this starting to grow already and I'm excited to see where it may lead".
"What a terrific effort by a terrific young man" commented Lew's/Strike King Field Activation Team member Mark Gintert. "Just look at the impact this one young man has had on the students in his community and what a positive role model he is for them" added Gintert. "I can't begin to tell you how proud we are to support his efforts!"
When the High School fishing season gets started up again next year, Tate Thrasher will already be a winner in the eyes of the Lew's/Strike King team – even if he never catches another fish. He is a "difference maker" in the fishing world!